Welcome to WordPress. This is your first post. Edit or delete it, then start writing!
Stepping into the world of social media with your newly established brands springs a bunch of fear among the entrepreneurs. It's true that social media management is not an easy feat, but getting your hands on top-notch tools can sail you across seamlessly.
if you look into the Google Analytics acquisition tab you will find many other metrics to consider for optimizing your social media profile. Organic search referral is not the only thing to consider, direct visits, paid search, referrals, emails, and ad display must be monitored timely. The blog will help you learn about all-in-one social media management and marketing tools. So, read on to explore the best social media management tools.
Best Social Media Tools:
Social Web Suite
Buffer
Hootsuite
Sprout Social
Later
Sendible
Agora Pulse
Social Pilot
1. Social Web Suite
Social Web Suite is one of the best automated marketing management tools. It is integrated directly with WordPress. It also offers accessibility to all the leading platforms like Facebook and Twitter. With the help of its WordPress plugin, you can automate, schedule and aggregate your content.
Apart from this, it lets users integrate posts, categories, and tags as well. The moment you publish any post on WordPress it gets posted on all your social media accounts. Not only this, posts are queued to be published at the best time for better reach. Moreover, Social Web Suite offers an intuitive calendar to offer a clearer view of your posts where you can schedule your submissions as well. Its starts with a 14-day free trial along with offering a minimum subscription of $9 per month.
2. Buffer
Next on the list is Buffer – one of the premium social media tools. It's an intuitive social media management platform for small businesses that offer meaningful insights to drive engagements. It has products for engagement, analytics, publishing, team collaboration, and landing pages. It brings together teams of marketers and designers to streamline social media strategies and processes. Providing unique value to the users, Buffer stands out for its bunch of amazing features. When it comes to its pricing model, it has a free plan along with paid subscriptions starting at $5 only.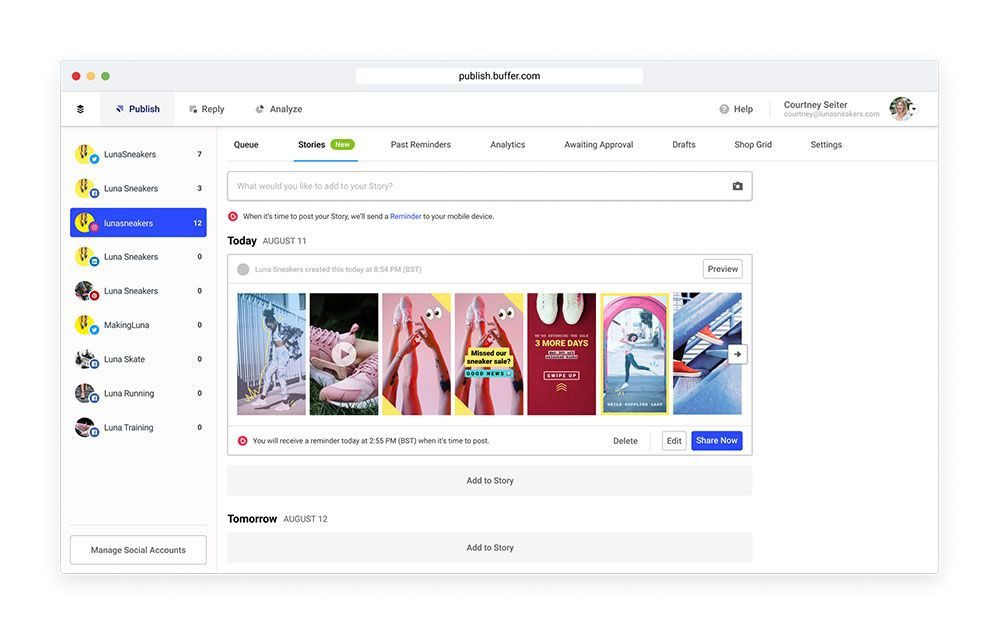 3. Hootsuite
Hootsuite lets you manage all your social media strategies in one place. It's the perfect tool for social media managers as it comes with incredible features. The tools let you curate your content, measure your ROI, optimize your social media ads and manage run-time efficiently.
Not only this, Hootsuite's planner is a true shocker. The planner gives deep insights about your post from the best-performing ones to the scheduling details. It tells you when your audience is active and what should be the best time to post. Moreover, it accelerates your engagements and drives better conversions. On the whole, Hootsuite offers a comprehensive platform where users can connect to over 35 networks and indulge in bulk scheduling with highly optimized monitoring metrics. Its plan starts at $49 per month.
Watch video: https://youtu.be/c_xYkyfivDI
4. Sprout Social
Packed with the right features, Sprout Social helps to streamline and scale up your marketing game. It has a unified social inbox along with uncountable features. Sprout Social offers message completion, collision detection, conversation history and comment moderation. These features enable users to engage in real-time monitoring. An in-depth view of how well your social media accounts are performing.
Moreover, you can enjoy Facebook and Instagram ad comment moderation features that actively keep a track of your paid posts. You can interact and engage with your users. Sprout Social taps on all the issues and hurdles social media managers can encounter. Its helpdesk offers quick suggestions and problem-solving advice to avoid delays and troubles. Its pricing plan starts at $99 per user per month. It also offers a 30-day free trial.
5. Later
Later is a free social media management tool with advanced features. It allows in-feed images, stories, video posts, along with carousel posts. The platform is dedicated to Instagram allowing users to schedule posts efficiently. The intuitive interface ensures ease for users and gives premier monitoring. Moreover, the tool offers reports and dashboards for better scalability. It ensures social publishing, analytics, and paid campaign tracking. Users can streamline posts via content calendars and other collaborative tools the platform offers. Although it's a free tool you can even get its advanced package at $80 per month.
6. Sendible
Sendible is a go-to platform where you can create, schedule and publish posts in no time. It's a powerful dashboard that not only offers insights but deep analytics to drive greater conversions. Users can schedule tailored posts via queues or in bulk. They can visually draft content calendars months ahead for seamless operations. Your every post stays pixel-perfect and gets optimized efficiently. For flawless monitoring, users can create meaningful reports in minutes. All the features needed are instantly available on Sendible. The subscription plan starts at $29 per month.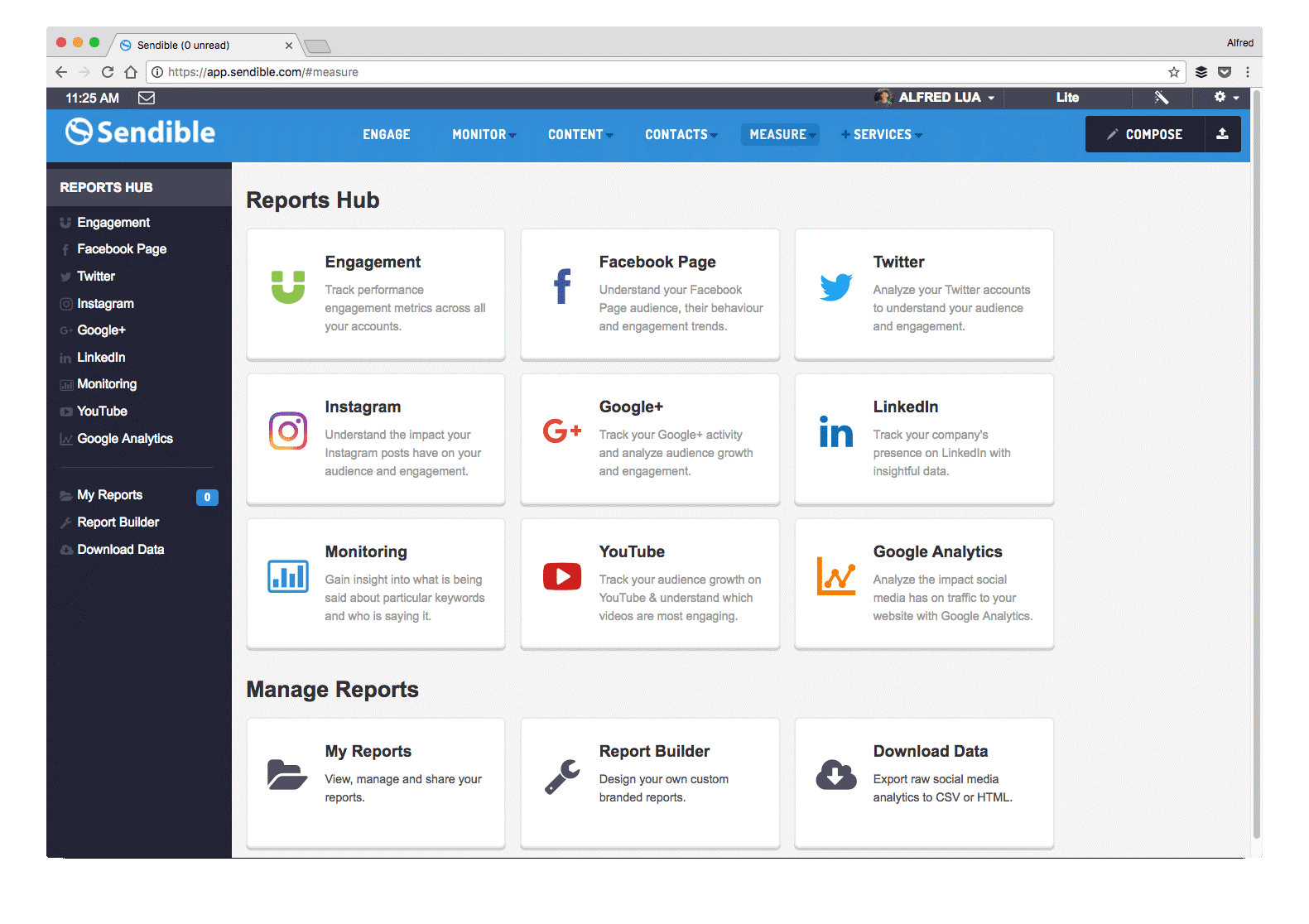 7. Agora Pulse
Agora Pulse is one of the most simplified tools that allow easy social media optimization. Its features are innovative and add ease to your management process. The Inbox Zero lets you tap on the must-respond-to messages. You do not need to wade through the messages or waste time scrolling through the bunch of queries. Moreover, it enables the auto-post to users making it seamless to stay consistent on social media. Its pricing plan starts at $79 per month. It also offers free subscriptions to its users.
8. Social Pilot
Social Pilot is simply a cost-effective solution. It's one of the finest social media marketing management tools and is best regarded by teams and agencies. Users can analyze, report, and monitor social performances. You can export all the reports and improve social engagements. Moreover, users can connect to over 50 accounts and schedule posts easily. With Social Pilot, you can increase conversions to double the pace. Social Pilot's subscription plans start from $29 per month where you get to create 7 different accounts.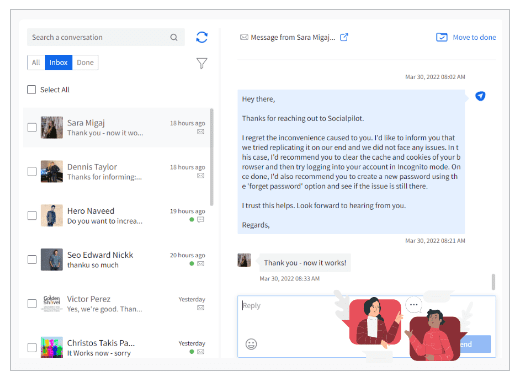 Wrap Up
Each of these tools has its unique features and innovative offerings. You need to create a killing strategy and let your brand stand out surpassing competitors in no time. Consumer preferences are changing; they are becoming more insightful and demanding. If you need the assistance of top social media managers, Attar Media Tech can help you hit your targets. Hence, to manage an enhanced ROI you need to leverage the best features of these amazing tools.